After dealing with an oral exam in university tomorrow, i will keep on concentrating on my new liveact which will be performed on Saturday 31-07-2010 at the
about:blank
club near Ostkreuz - this event is the official release-party for the Liquid Garden Compilation which was published on
Eintakt
recently !
Maybe one half of the Bekeschus brothers will join this session with one of his synthesizers for maximum soundperformance - let's have a look ;-)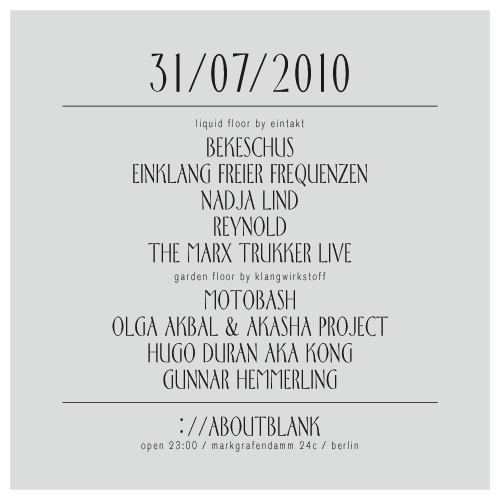 The complete line-up combines Eintakt-artists
Bekeschus
,
Einklang Freier Frequenzen
,
Reynold
and Klartraum's
Nadja Lind
who will host the clubfloor with several artists from Klangwirkstoff-Crew (e.g.Motobash,Olga Akbal & Akasha Project, Hugo Duran and last but not least another Eintakt-artist:
Gunnar Hemmerling
) which will entertain the pretty nice about:blank garden floor !
Entry will be 8 Euro !
I hope to see you there!
Mark
PS: You can also respond to this event on
Resident Advisor
:-)